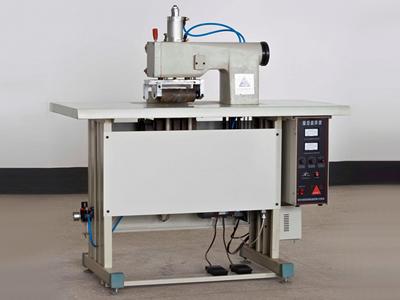 Application
The JT-200-S ultrasonic sewing machine is specially designed for the production of high quality lace garments, ribbons, decorative products, handkerchiefs, tablecloths, bedspreads, pillowcases, quilt covers, nonwoven products etc.
Applicable materials
All kinds of chemical fiber cloths, various artificial leathers, nonwoven fabric, gush glue cotton, thermoplastic film, chemical plastic slice etc.
Parameters
| | |
| --- | --- |
| Power supply | 220V |
| Input power | 1800-2500W |
| Output frequency | 20KHZ |
| Working speed | 0-20m/min |
| Size of pattern roller | Width: 0-190mm; Diameter: Ø50-Ø80mm |
| Dimensions (length*width*height) | 1200*600*1200mm |
| Net weight | 120KG |
Configuration
Computer intelligent ultrasonic generator
20KHz ultrasonic transducer
Fixed structure of bottom horn rotating
Single motor speed control system
Manual (pneumatic optional) pattern roller lifting system
Functions
Side trimming: the one side straight or curved cutting and side melting treatment can be carried out at the same time, making the side smooth, without coarse side.
Melting: two layers or multi-layers can be melted together, no need for thread or needle. This process can replace sewing and the melting strength is excellent.
Holes breaking: holes with different patterns can be cut out and the treatment of side melting can be carried out.
Material cutting: materials can be cut into a single piece or multiple pieces at one time and the treatment of side melting can also be carried out. No coarse side will appear.
Forming: the processes of cutting, melting and embossing can be carried out at the same time to form the product at one time.
Features
The equipment is configured with a built-in computer chip and multi-channel ultrasonic protection system so as to ensure its safe and stable operation.
With super-strong power output, high, medium and low three gear power adjustable, it can be adapted for welding and cutting requirements of different materials and varying thicknesses.
The application of automatic frequency-tracking system and ultrasonic soft-start technology enables outstanding performance that is on par with international technologies.
There are diverse pattern rollers that can also be designed according to customer needs.
The working speed is four times of ordinary sewing machines and is easy to operate.
Samples
Index
sewing, clothes sewing machine, industrial sewing machine