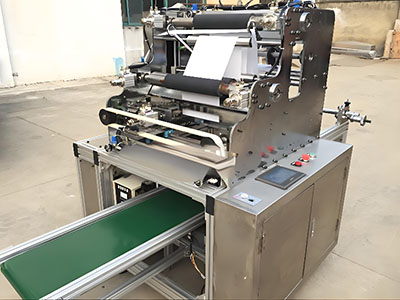 Application
The ultrasonic cross cutting machine is primarily used for slitting of various cloths, including towel cloth, glasses cloth, dustless cloth, antistatic wipe and headrests, with an adjustable slitting width, at a minimum of 15cm.
There are various kinds of slitting types: straight edges, serrated edges, wave laces, and small round edges
We offer a variety of models, and offer customized services to meet customer requirements.
Parameters
| | |
| --- | --- |
| Power supply | 220V |
| Input power | 2KW |
| Max. unwinding width | 400mm |
| Max. working width | 200mm |
| Max. cutting speed | 30m/min |
| Outline size(length×width×height) | 1500*1500*1500mm |
| Net weight | 600KG |
Features
The cutting length of the ultrasonic cross cutting machine is controlled by PLC and the length can be set up freely, with a maximum of 80cm.
The cutting speed is controlled by the frequency conversion motor, which can be freely matched; the slitting width is adjustable and the minimum value is 15cm.
With an aluminum alloy structure, the equipment has a high stability during high-speed operation, effectively improving the mechanical durability and the service life.
The tension of unwinding fabrics is controlled by mechanical tension control so that the feeding is uniform, thus the smoothness and neatness of the cuts are improved.
Equipped with counting device, it can achieve automatic stop function at a fixed number.
Ultrasonic cutting, no coarse sides, no coking, no discoloration.
Index
fabric cutting, industrial garment cutter, clothing cutting, sewing equipment