Ultrasonic Slitting Machine (Narrow Width)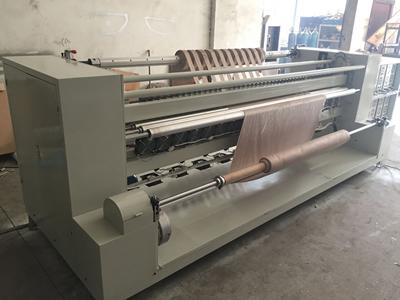 Application
The ultrasonic slitting machine (narrow width) is mainly suitable for slitting of polyester fabric, nylon, artificial fabric and other tape fabrics. The slitting width is totally adjustable with a minimum width of 10mm.
Parameters
| | |
| --- | --- |
| Power supply | 220V |
| Input power | 5KW |
| Max. unwinding diameter | 400mm |
| Max. unwinding width | 2200mm |
| Min. slitting width | 10mm |
| Max. slitting speed | 30m/min |
| Diameter of air shaft | 3inch |
| Outline size(length×width×height) | 1500*2500*1400mm |
| Net weight | 1500KG |
Features
The slitting speed of the ultrasonic slitting machine (narrow width) is controlled by the converter motor, and the slitting width can be arbitrarily adjusted with a minimum of 10mm.
The equipment uses steel structure with high stability during high-speed operation, effectively improving the mechanical durability and the service life.
The tension of the rewinding fabrics are controlled by the magnetic powder clutch so that the tightness is freely adjustable. Single / double air shaft is available for rewinding.
The feeding tension uses magnetic powder tension control so that the feeding is uniform, thus the smoothness and neatness of the cuts are improved.
Ultrasonic cutting, no coarse sides, no coking, no discoloration.
Air swelling shaft for unwinding and is equipped with manual correction device (automatic correction device is also available), which can effectively guarantee the straightness of the cuts.
Equipped with meter counter with metering function, the machine can automatically stop at a fixed length.
There are a variety of slitting styles, such as: straight edge, serrated edge, wave lace.